Klitchko beat Derek Chisora last night defending his World Heavyweight boxing Championship. Now during the pre-fight weigh in Chisora slapped Klitchko across the face. (see link)
Then they fight and Klitchko wins.
During the Post fight question answer session David Haye appears in the audience and He Chisora and Klitchko's manager all get involved in a slanging match. Chisora walks off stage and confronts Haye. Which leads to this little ding dong. (it starts getting good at the 3 minute mark)
Heres a still of the punch thrown by Haye.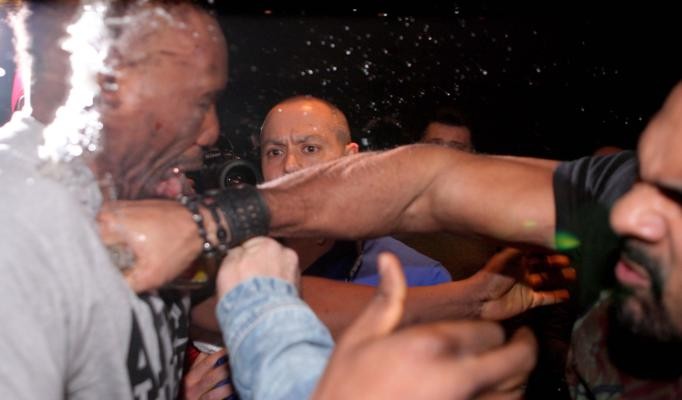 Chisora goes on about being bottled, but although you can clearly see a bottle in Haye's right hand. He is obviously punching Chisora in the chin. Or is he.
Despite the whole incident being a black eye on British boxing (D'ya like that) what do you make of the whole incidents?



Number of posts

: 735


Localisation

: CHESHIRE


Registration date :

2006-09-15



I think they are acting like spoilt brats and their ego's are larger than their big fat mouths

just an opinion of course

oh and they hit like kids too



Number of posts

: 242


Age

: 49


Localisation

: Cheshire


Registration date :

2009-04-21



i've watched Hayes punch several times and it looks to me like he was aiming the fist at the shoulder so that the bottle hit the face,naughty boy

Admin




Number of posts

: 2426


Age

: 53


Localisation

: Cornwall,near england


Registration date :

2006-08-15



Both fighters are a disgrace to boxing but then the sport's been on a sad decline for a while now.



Number of posts

: 933


Age

: 43


Localisation

: NZ


Registration date :

2007-01-20




---
Permissions in this forum:
You
cannot
reply to topics in this forum